The following article is also posted as a guest post on
PediaStaff.com
. Be sure to visit their website for innovative ideas, resources, and employment opportunities. Follow them
@PediaStaff
on Twitter for more information.
Whether you're a PECS veteran or you're just getting started, an important part of using PECS is having a good supply kit. Usually this consists of velcro (lots of velcro), binders, and picture cards (likely made using special software like Boardmaker). Over the past eight years, my creation of PECS cards and books has evolved. Luckily, I work in a school that either provides the materials or funds (your classroom/speech funds) to purchase the essentials. So, I thought I'd share with you my current trend with creating PECS cards and books.
Binders
Communication, the work way by Dave Matos
on Flickr (Creative Commons)
Okay, you're probably like me in that you like to be frugal whenever possible when it comes to school supplies. Obviously, you can find deals at the beginning of the school year, but what I do is recycle old conference binders. I know. I'm horrible. I don't go back and read all of the papers that someone spent hours compiling and putting into binders for every single in-service that I've ever attended. Most of the time, nowadays, the notes from conferences are available electronically (if not, ask the presenter). So, for me, conferences equal free binders. I guess I paid for them anyway.
Velcro
photo by Feiner Supply
Here's my biggest secret. Stop gumming up your scissors by cutting little pieces of velcro for each picture card. The solution? Buy 1/2" dots instead. They are most definitely the biggest time saver. I think the last bunch I bought was about 1400 dots (coins) for about $16 at Feiner Supply. You can buy them elsewhere, but this place definitely had the best deal. I'm not kidding in that my roll is going on its third or fourth year.
Picture Cards
What's the biggest problem with PECS picture cards? For me, it's durability. I have kids that rip, chew, and slobber on my pictures (their pictures now) and I need something that puts up a first line of defense. Most of the people I know laminate their PECS pictures. You'll find out quickly with some kids that the lamination becomes tedious and annoying after you've cut out a set of pictures only to find them torn up after one session. My first solution was to protect them with a more durable, yet interchangeable product: baseball card sleeves. As a kid, I collected baseball cards. As you may know, the first thing you wanted to do was to protect the cards to keep their value. There are a few products out there, but if you buy the "top loaders", they'll do the trick. The best part is that you can take the pictures out at will and replace them quickly. I've even set up a "baseball card" template (3x4" rectangles) on Boardmaker so that I can print out an entire set. You can get these on eBay or look for them near the trading cards at Target or Walmart. I saw them on eBay 100 for $12.
Now, if you're looking for the million dollar cards and you have some money to spend (in your school or your own budget), our school uses the Pebble 4 Plastic Card Printer. These printers are the ones that you can print ID cards with. You know, they look like credit cards. These are most definitely a teacher favorite at our school. They are nearly indestructible (I have a couple of kids that have found a way to chew/tear them) and slobber proof (disinfect them afterward). Once you get past the initial purchase, the ink is about $65 (200 cards, full color) and the blank cards themselves are sold separately.
Purse/Organizer
Since I work with a wide variety of students, I like to venture out a bit with my older students (high school age and above) to keep everything age-appropriate. I was able to adapt a business organizer into a PECS book that ended up looking like a small purse. The student happened to love purses, so the buy-in from her was immediate. I was able to get a purse strap by putting up a sign by the teachers' mailboxes asking if anyone had any old purses that they wanted to donate. I even went over to Goodwill and found one for $1. My men's version looked like a little briefcase.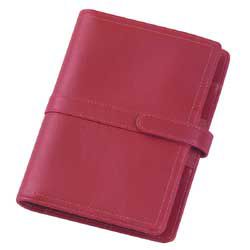 Day-Timer from Office Depot
Day-Timer from Office Depot
Software/Sharing Pictures
The two most popular software programs to create picture symbols, in my opinion, are Boardmaker ($399) and SymbolStix (online version $49/year). Both are similar and worth the purchase in order to be able to create limitless picture cards. If you're unable to afford either software, you can always search the world wide web. There are plenty of entrepreneurs out there that produce the pictures for you. Search eBay, Pinterest, and a regular Google search for pre-made cards. Boardmaker does offer a free-trial so that you can give it a go. Boardmaker Share is also available for others to share and collaborate ideas and projects. I really do like both programs. If your school has a News-2-You license ($149/year), then you get free access to the entire SymbolStix library. If you haven't checked out News-2-You, then you definitely should!
PCS Classic symbols by Boardmaker
What's in your PECS kit?
Any creative ideas?